Registering a CAGR of 7.14% during 2018-2023 to reach a market value of USD 805.61 billion by 2023,
The growing usage of products by women, and increasingly by men across the world.
= Maintain a certain volume overall.
Figure 7. Expected Market Growth for Global Cosmetics at 2023
Aging Population as the Major Driver for the Market
At 2050, population over 60 years of age is expected to reach 2.09  billion.
The share of elderly people for cosmetic products is on rise
Figure 8. Expected Life Expectancy at 2050
E-commerce as a Distribution Channel for Rapid Market Growth
Smart phone shipment increased to 1.53 billinon in 2017
– Setting up websites
– Brand-specific Facebook and Twitter accounts
Companies are focusing on online marketing campaigns
– Skin Care
– Hair Care
– Fragrances
Middle East & African Region Expected to Grow with the Highest CAGR
The market is gaining prominence in the MEA countries, such as UAE, Saudi Arabia, and Israel.
While a further 6.2% spend between AED 728 and 1,125 to keep themselves looking appeasing.
21% of people in this region spends between AED 362 and 732 per month on health and beauty products.
Cosmetics Industry Overview
A shift of preference towards natural and organic beauty products, particularly in U.S. and European countries, fosters the growth of the cosmetics market
Rising demand for natural, herbal and organic beauty products creates potential opportunities for manufacturers to innovate and develop new products
Top Factors Impacting Global Cosmetics Market
Figure 9. Use of Natural Ingredients as One of Top Factors Impacting Global Cosmetic Market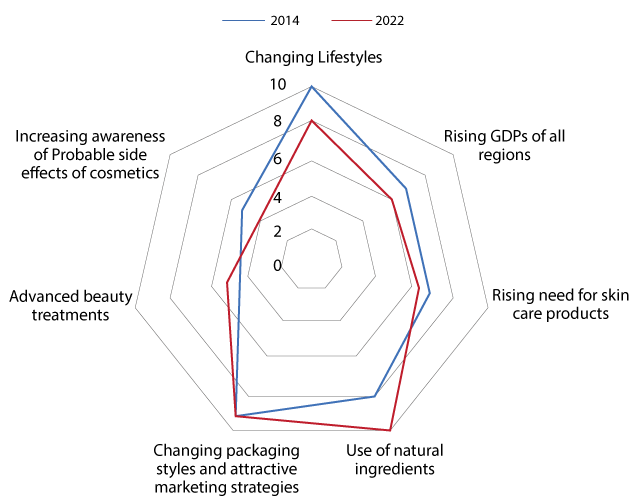 New Green Products as Functional Materials
for a Formula's Winning Secret in Cosmetics
The functional materials can actually add to performance, marketing story, and sensory acceptance. They can be used not only to build and stabilize a formulation, but also to enhance perception of a product and brand loyalty from the very first use. They really can make a big product difference. Also,naturally derived conditioning agents offer a green alternative to traditional quaternary materials and the innovation for fantastic functional solutions, as a sustainable and natural green products.
| | | | | |
| --- | --- | --- | --- | --- |
| Use of herbal cosmetic products | | Minimizes the chances of any possible side effects of the product | | Increases the usage of cosmetics among individuals |
Segmentation of Global Cosmetic Market
By Category
Skin and Sun care products
Hair care products
Deodorants
Makeup and Color cosmetics
Fragrances
Others
By Distribution Channel
Retail Sales
General departmental store
Supermarkets
Drug stores
Brand outlets
Online Sales
By Geography
North America
Europe
Asia-Pacific
LAMEA